---
TOP skiing area in the Zillertal
Skiing area Hochfügen-Hochzillertal
Experience 89 kilometres of pistes, fast and modern lift facilities and a varied offer!
New in December 2018
new cable car in skiarea Hochzillertal
new restaurant loft "Albergo" with Sky terrace and 6 suites
the new hut "Kashütte" in Hochzillertal
new mountain station Hochzillertal with restaurant, guest kindergarden and information center
The skiing area Hochfügen-Hochzillertal sets completely new standards for a perfect ski vacation – whether for snowboard professionals, tobogganing aces or skiing with children and the whole family.

Skiing in the skiing area Hochfügen-Hochzillertal is a winter dream come true for the whole family in the midst of the breath-taking, snow-covered landscape of the first holiday region in the Zillertal . For beginners, advanced skiers or when skiing with children, the skiing area Hochfügen-Hochzillertal provides for each level the suitable piste . Freeriders find almost endless off-piste possibilities in Hochfügen, and in the Betterpark Hochzillertal freestylers can show their skills on numerous kickers .
If the kids are too young to ski or want to skip a ski day you can take advantage of the guest kindergarten 'Zwergerl Club' at the Hochzillertal and Hochfügen mountain station. They welcome young children from three months to seven years.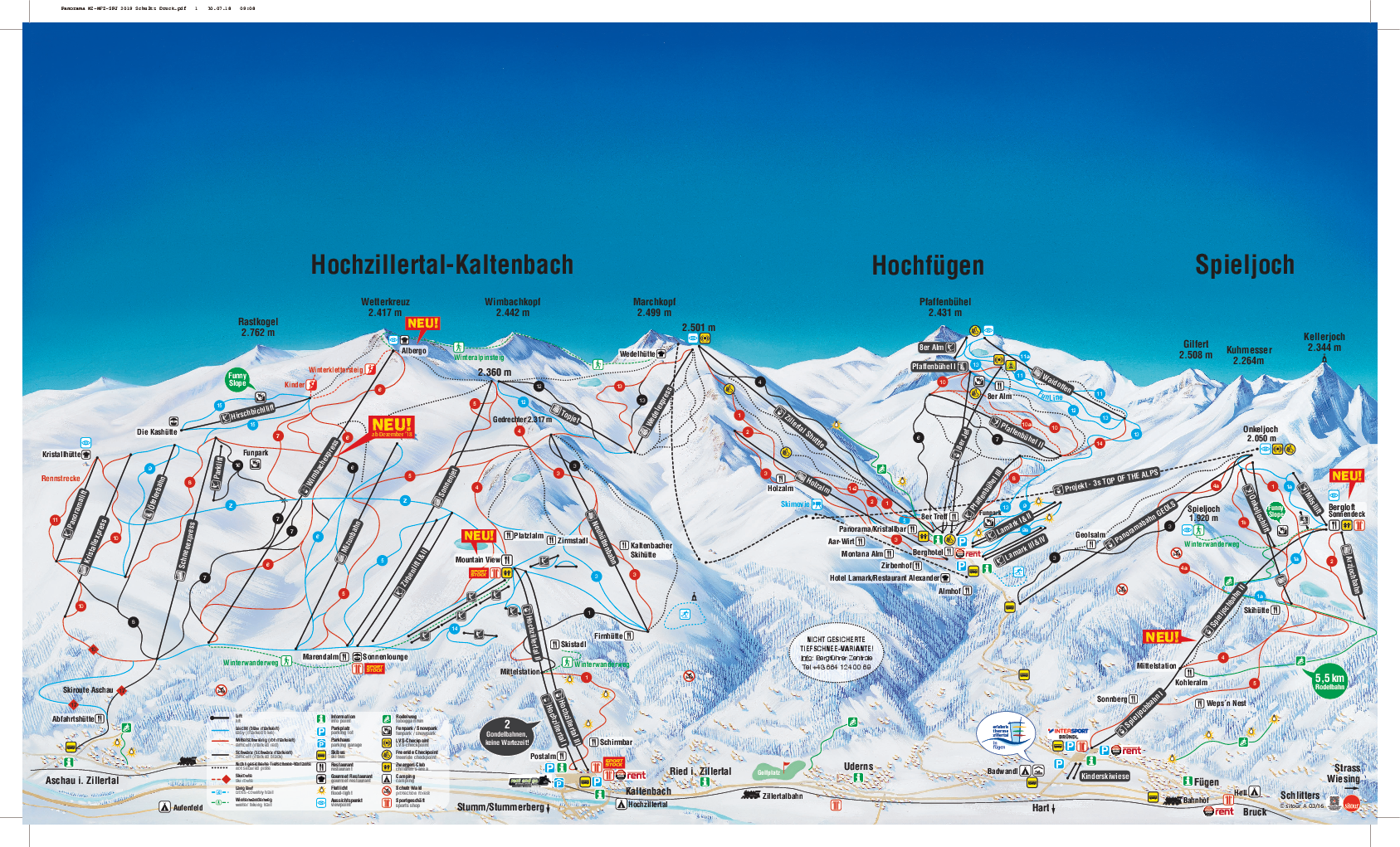 ---
You don't have your own skis, or maybe you just want to try out something new? No problem! The staff at the ski and snowboard hire shops in Hochfügen and Hochzillertal are happy to advise you. In each of the ski hire centres a large selection of the latest hire skis and ski equipment is available, along with expert advice .
For those of you who would like to refine your skiing technique or who want to venture on to the pistes to have a go at skiing, the ski schools in Hochfügen offer ski courses for beginners to advanced level skiers alike. Children are well catered for too with the children's ski courses and can get their first experience of skiing or snowboarding. The ski schools also offer individual privat ski lessons.
Junior RRS Camp
Kids and youngsters have now the chance to be part in the Trendcamp Rock, FreeRide and FreeStyle, where they learn how to stay safe off-piste, how to improve their style and how to excercise first tricks in the freestyle park.
> for kids and youngster between 6-12 years
> Duration of the camp: Wednesday to friday
> Per Person from € 158,50
Get your free skifriend in Hochfügen
To all freeride fans!

Take the chance and get your skifriend for free in Hochfügen. Skifriends accompany you off-piste and support you with advise to improve your technique and teach you how to stay safe off-piste.
> Duration approx. 2,5 h per tour
> Groups of max. 6 people
> Meeting point: Skifriend Collecting point at the valley station 8er Jet - first come, first serve ;)
> Skifriends is a service offered for free by the mountain railway company of Hochfügen


---
Driving-experience in a snowcat: The Hochfügen ski area always endeavours to provide unforgettable holiday moments. Experience action during rides in the snowcat and take part when, from 4:30 p.m., the pistes are prepared for the next day's skiing. With 500 horsepower, the Pistenbullies head up the steepest slopes, inspiring young and old alike.
Freeride Weekend: Explore a ehole weekend the hidden backcountry "Eldorado" in Hochfügen. 2 professional guides will lead you around and show you the best spots.
Canada feeling in Hochfügen: With CAT-Skiing your wildest "first line" dreams come true in Hochfügen! In the early hours you will be brought to peaks around the region in a snowcat, wherefrom you can enjoy the fresh powder in Hochfügen! A little tip from us - CAT-Skiing is also perfect as a gift voucher idea!
---
Also in Hochzillertal you can have lots of fun and action . There are many different adventures for all ages . One of the highlights is the Betterpark in the ski resort Hochzillertal. The Betterpark is especially for freeriders & jump enthusiasts . It has numerous attractions and is daily open from 08.00 - 16.00 o' clock. The entrance to the spectacular park is located on the exit of the 8-seater chair lift "Snow Express". 17 elements and 14 jumps are waiting for you. You will find a Superpipe, a Pro Line, a Mid Line, a Beginner Line, a Jib Line and many more elements. The Betterpark has its own built-up lift and a chill-out area to relax. The Betterpark team is looking forward to your visit!
---
Short Facts skiing area Hochfügen-Hochzillertal
Ski buses free of charge in the whole region ✷
Racing slopes and racing service ✷
Guest kindergarten, for your children of 3 months -7 years ✷
Snow-covered and lit up downhill slopes ✷
3-bonnet restaurant Alexander in Hochfügen ✷
top-skiarea - award winner
Awards of the skiarea Hochzillertal-Hochfügen
---
Contact skiing area Hochfügen
Skiliftgesellschaft Hochfügen GmbH
Office:
Sennereistr. 1
6263 Fügen
Skiing area:
Hochfügen 8
6264 Fügenberg
Telephone: +43 5288 62319
Contact skiing area Hochzillertal
Skiing area Hochzillertal
Postfeldstraße
6272 Kaltenbach
Telephone: +43 5283 2800