MUSIC - CULTURE - SPORTS
Events in Fügen-Kaltenbach
In summer and winter, there are numerous events awaiting you in our 12 villages! From music and culture via local customs and traditional celebrations up to sports events and daily programmes for hiking tours. In summer we offer a special kids programm for all families. Find here current events in every village of the region Fügen-Kaltenbach and plan your week- or evening program individually to your own desires!
TOP EVENTS
of the holiday region Erste Ferienregion im Zillertal
HOCHFÜGEN NIGHT
HOCHFÜGEN

Fire meets snow! Spectacular jumps and ski acrobatics by freestylers, breathtaking formation rides, spectacular light and fire effects and a bombastic fireworks display at the end - this is how we enchant you with seven special nights of night skiing.

Every Thursday from 19th of January - 02nd of March 2023!
ALPICON
HOCHZILLERTAL - KALTENBACH
Groove & Snow - ALPICON: The region's exclusive ski huts are transformed into extraordinary stages for live bands and DJs. During the day, winter sports enthusiasts can enjoy the great piste conditions in Hochzillertal-Hochfügen or move to the electronic beats. In the evening, you won't be dancing under the spring sun, but under the disco balls in the valley. A real variety of culinary delights also awaits you, spread over 2,000 metres of altitude.
Hochfügen rope race
LAMARKLIFTE HOCHFÜGEN
On 16th of April 2023, the legendary rope race will take place in Hochfügen. For over 50 years now, three skiers have tied themselves together with a rope and raced together over a race course. In addition to the rope race, a varied supporting programme for young and old awaits you.
Thomas Stipsits
IN THE FÜGEN FESTHALLE
Thomas Stipsits comes to Fügen with his cabaret program Stinatzer Delikatessen!

His "Quasi Best Of" impresses with lots of situational comedy and a varied parade of absurdly funny scenes and characters, in which self-irony and insider anecdotes are not neglected.

Tickets: Ö-Ticket, banks, tobacconists, www.lindnermusic.at,
Lindner Music:05242 - 93 804 10
Zellberg Buam Alpenparty
AT THE FESTIVAL HALL IN FÜGEN
The Zellberg Buam invite you again to the Alpenparty in Fügen in 2023. With many well-known stars the 3 brothers celebrate again a whole weekend with you. With them among, the Fetzign, the Mayrhofner, Feschn' Rock and many more!
Die Nockis
in the Fügen Festhalle
No party without Nockis!The 'Nockis' - as they are called by their fans - have won the hearts of the audience. Step by step they have climbed the ladder of success, have mastered all levels of the musician's life brilliantly and are today a stable size when it comes to conjure up an unforgettable party on stage for the friends of the hit.
Start: 8 p.m., admission: 7 p.m.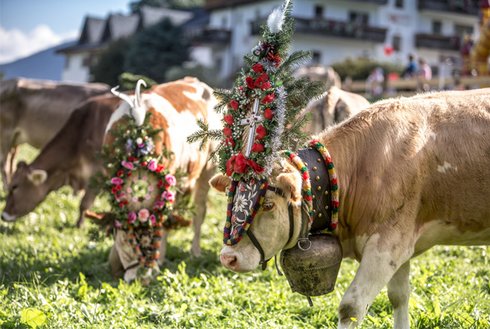 September - October 2023
Almabtriebe
ERSTE FERIENREGION IM ZILLERTAL
Experience tradition up close! Be there when the farmers with their colourfully decorated cows walk down from the alpine pastures into the valley. With an exciting supporting programme and regional specialities, the annual Almabtrieb is a highlight in Erste Ferienregion and always worth a visit.
expected dates 2023:
Fügen: 16th and 23rd September