SPA & ADVENTURE WORLD
Erlebnistherme Zillertal
Experience at the highest level
World of experience for young and old
Fun & action in the family spa and adventure world for all ages! In the Erlebnistherme Zillertal spa complex in Fügen, we welcome children! The time with your kids will be characterised by pure relaxation and recreation. We offer the right attraction for every age: In the children's pool, in the playing area for children with exciting playing room or in the adventure with climbing net, wave pool, an experience and a tyre slide, at the Erlebnistherme Zillertal spa complex your children can unwind and experience pure fun after a day in the mountains!
Pure relaxation!
Wellness and sauna area
Immerse yourself in a day full of relaxation - the Erlebnistherme Zillertal in Fügen with its wellness and sauna landscape is the ideal retreat to recover from the stress of everyday life and after a day full of adventurous activities in winter or summer and to relax your muscles in the sauna world.
Summer, sun, sunshine
Outdoor pool Fügen
During your summer holiday in the Zillertal, a visit to the outdoor pool of the Erlebnistherme Zillertal is a must. Countless attractions await you and your family on 5,000m2 of sunbathing lawn and 1,700m2 of water surface: From water cannon to current canal, bouncy cushions, air bubble, giant diving castle, three water slides and many other highlights.
For the little guests there is a separate children's area with baby pool and a playground.
Children of all ages are welcomed here and a bespoke, variety-packed programme awaits holiday guests! For maximum fun on the water Erlebnistherme Zillertal has countless exciting attractions - an extensive children's pool for the little ones, a separate children's play area with separate play room, an adventure area with climbing net , a wave pool and two spectacular slides.
Our adventure slide, which has a time measurement facility, and which is 133m in length along with a tyre slide provides exciting fun for all adrenaline junkies - no matter how old they are. Boredom will definitely not feature during a winter or summer holiday! The salt water pool with its dome sunroof and our heated outdoor pool with its bubble lounger invites you to enjoy something really quite special during your holiday in Zillertal.
"Big holiday-makers" also get to enjoy themselves here with us in Erlebnistherme Zillertal in Fügen. After a fantastic day of skiing in the Zillertal or a leisurely hike through the idyllic mountain scenery, the extensive wellness oasis tempts you relax and unwind and enjoy that holiday feeling. With our broad range of activities, we not only offer great fun for children, our relaxation and recreation programme also provides exactly what relax and wellness fans are longing for. Unwind in the brine pool with sliding sunroof or in the textile bio pine sauna within the swimming area. Enjoy a day of perfect relaxation at the Erlebnistherme Zillertal spa complex in Fügen – with its wellness and sauna world is the ideal retreat to recover from everyday stress and to unwind after an active vacation day.

Six different saunas and a steam bath, an immersion bath and a tepidarium provide fantastic relaxation and regeneration for your holiday. Experience tropical pleasure in the tropical sauna, or feel the beneficial effects of herbs in our herbal sauna. Sauna lovers have plenty of variety to choose from with the infrared sauna and the 'Black and White Sauna'. Refreshing drinks and snacks are available in the Panorama bar to help you recharge between sauna sessions and to top it all, there are the dreamy views to the surrounding mountains in Zillertal.
Of course, we make sure that those seeking "wellness and relaxation" are shielded from the excitement of the adventure area, all the while guaranteeing peace and calm.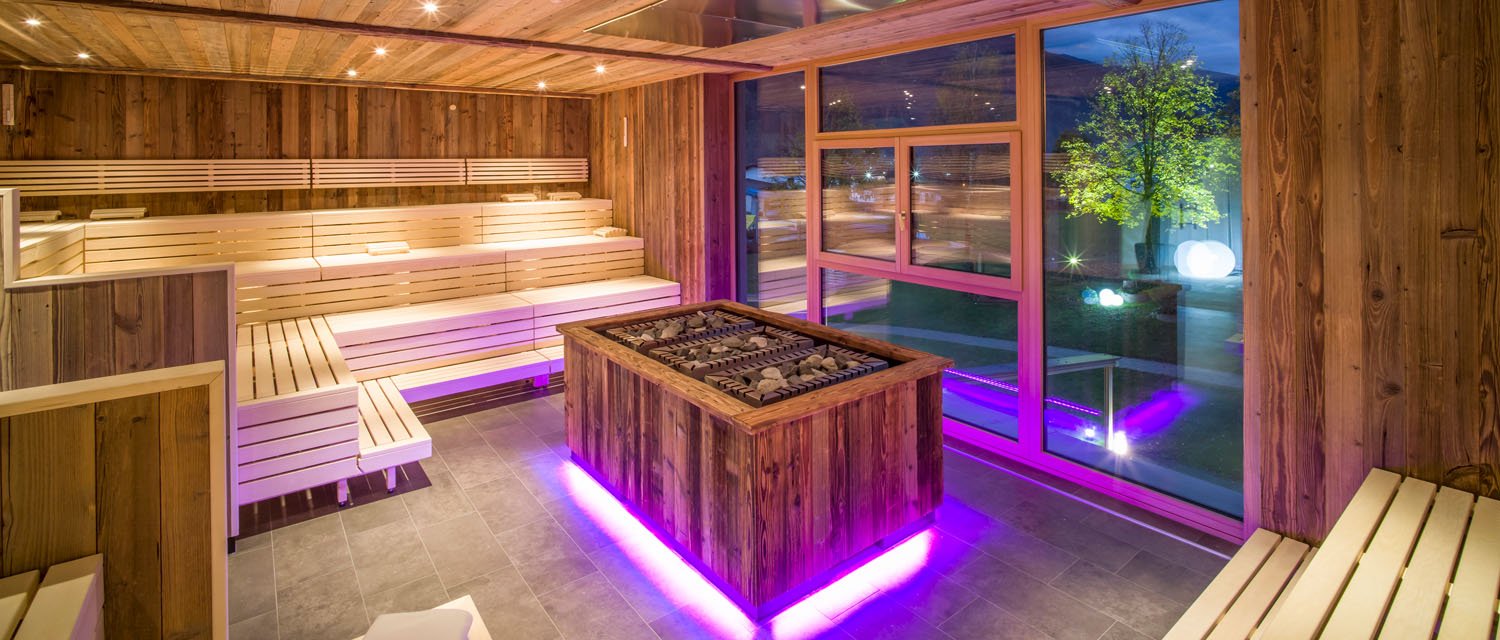 The massages round off the wellness offer of the Erlebnistherme Zillertal perfectly. After physical activity, tense muscles can be loosened up again with a massage. The wide range of offers includes classic full-body massages, foot reflex massages, fango packs, aromatic oil massages and sports massages. With atmospheric light effects, soothing sound and stimulating scents, body, mind and soul are equally stimulated. Immerse yourself in a world of moods that enhance your well-being and round off your holiday in the Zillertal perfectly. In addition to the wide range of swimming and bathing facilities in the Erste Ferienregion im Zillertal, there are also numerous other exciting activities, both summer and winter. From outdoor activities such as climbing in the high ropes course, cycling and hiking in summer to skiing, cross-country skiing and tobogganing in winter.
play Video