SEMINARS & CONFERENCES
The ideal location for your event in the Zillertal!
Where could you better hold seminars and conferences than in the Zillertal, where about 200 years ago the great rulers of their time, Zar Alexander I. of Russia, the Austrian Emperor Franz I. and Prince Metternich met with huge retinues at the castle of Count Dönhoff in Fügen, and discussed the future of Europe!
Nowadays in summer and in winter MICE guests reach the Zillertal either from the motorway in the Inntal and/or with the train (IC and Railjet from the train station in Jenbach) just within a few minutes only.
Our municipalities of the first holiday region in the Zillertal offer:
experienced and perfectly equipped MICE partner businesses
numerous day-trip and sports possibilities throughout the year
Cultural and culinary delights in an authentic setting and
numerous accommodation options across all price categories!
THE IDEAL SETTING FOR YOUR EVENT!
Meetings - Incentives - Congresses & more!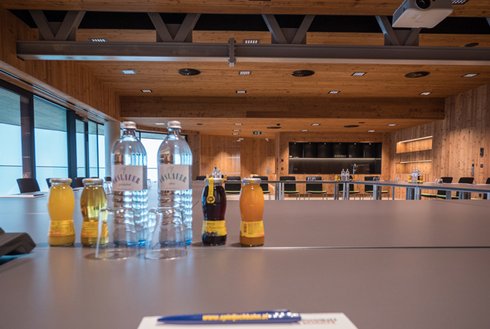 Services of our meeting & congress hotels
● Information, consultation and support for MICE customers
● Expert support for a tailored selection of the seminar hotel and/or the special event location
● Brokering experienced MICE professionals and selected partner businesses
● Preparing individual offers
● Room offers and reservation – everything in one stop
● Consulting for individual cultural, sports and day-trip programmes
● Marketing material
● Seminar package deals
Find an overview of our MICE partners here
Festival hall Fügen
● flexible use for festive evenings, theater, concerts, seminars, fairs and much more
● up to 600 seats with table seating
● 160m² large main stage
● modern sound and light system
● and much more
Conference room at the Spieljochbahn in the Zillertal
● Conference room approx. 150m² with wood, clear lines and large window areas
● Parliamentary seating up to 100 persons, U-seating 35 persons
● Daylight through glazed front with adjoining terrace
● View from the Inntal over Achensee, to the Wilder Kaiser and the Zillertal Alps
● modern conference technology: beamer with screen, flipchart, WLAN, microphone system and much more - Special trips z. B. Evening trips of the gondolas possible
● separate area for conference breaks in the gourmet restaurant "Mountain Loft"
● Service of drinks
● individual catering packages possible
FIND YOUR SUITABLE LOCATION
SEMINAR HOTELS IN THE ZILLERTAL
In the holiday region "Erste Ferienregion im Zillertal" there is a total of 14 businesses which have specialised in the organisation of seminars and conferences. The hosts are professionally and qualified to advise, inform and put together a suitable offer for you! The accommodation service comes first hand and makes your planning remarkably easier. The Zillertal is also ideal for team-building events due to the attractive recreational opportunities it offers. The staff of our offices are at your disposal for seminar and conference requests! Contact us at: phone: +43 (5288) 62262 or e-mail: info@best-of-zillertal.at
Supporting programme for your event in the Zillertal
Round off your events with an exciting supporting programme and impress with varied summer and winter activities in nature. We would be happy to advise you personally and help you to create the optimal program for your event in the Zillertal!
- Teambuilding activities – summer/winter
- Tandem flights
- Mountain bike, E-Bike tours
- Rafting, canoe and kayak competitions
- Climbing halls to climbing crags
- Special cultural highlights in the valley
- Culinary treats and music festivals
-Your own ski and snowboard race
- Snowshoe hiking
- Tobogganing
- Horse carriage trips
- Special hut evenings
- Spa and event activities at the Erlebnistherme Zillertal spa complex
- and much more!